Axis Growth Opportunities Fund

Date Published: February 12, 2021
SMART INVESTOR GUIDE
FUND FACTS
| | | | |
| --- | --- | --- | --- |
| Nature | Open Ended | Fund Manager | Hitesh Das, Jinesh Gopani |
| Launch Date | 22nd October 2018 | Benchmark Index | NIFTY Large Midcap 250 TRI |
| NAV (Rs.) | 12.22 ( 28-Sep-2020 ) | Corpus (Rs.in Crs.) | 1381.72 ( Aug-2020 ) |
| | |
| --- | --- |
| Investment Objective | To generate long term capital appreciation by investing in a diversified portfolio of Equity & Equity Related Instruments both in India as well as overseas. However, there can be no assurance that the investment objective of the Scheme will be achieved. |
PORTFOLIO COMPOSITION
The fund has 96.18% of its net assets invested into equity & equity related instruments and balance 3.82% in cash or debt instruments. The large cap holdings constitute of 32.33% (market cap > Rs.19,728 crs), 38.67% in midcap (market cap > Rs.6937 and < Rs.19,728 crs), 1.50% in small cap (market cap 0 > Rs.6,937 crs), and balance 27.50% in debt and cash component. The top 10 holdings of the scheme constitute 43.45% of its net assets. It may be observed that the Quarterly Average AUM of the fund for the end of June 2020 is Rs.923.24 crs.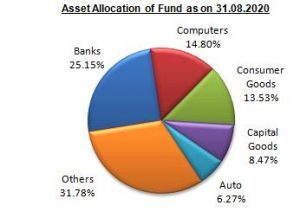 Table 1
Sectoral Allocation (in %) as on 31.08.2020
Top 10 holdings of Fund
Fund
Allocation
Banks
25.15
Computers
14.80
Consumer Goods
13.53
Capital Goods
8.47
Auto
6.27
Fertilisers
6.25
Pharma
5.06
Power
4.99
Chemicals
2.82
Telecom
1.50
Table 2
Month End
Equity %
Others %
Scheme Returns %
Index Returns %
30-Aug-20
96.18
3.82
6.79
5.55
31-Jul-20
95.73
4.27
4.68
5.83
30-Jun-20
97.28
2.72
6.11
9.1
29-May-20
96.74
3.26
0.58
0.26
30-Apr-20
96.86
3.14
14.35
18.32
31-Mar-20
91.92
8.08
-19.46
-24.65
28-Feb-20
92.86
7.14
-3.2
-6.84
31-Jan-20
96.03
3.97
3.37
3.37
31-Dec-19
95.92
4.08
0.33
0.36
29-Nov-19
98.74
1.26
1.03
2.93
31-Oct-19
99.99
0.01
5.36
4.35
30-Sep-19
97.14
2.86
3.8
3.83
Table 3
P I Industries Ltd.
6.25
4.59
4.9
Sundaram Finance Ltd.
6.17
5.2
1.79
Info Edge Ltd.
5.75
4.8
5.88
Bajaj Finance Ltd.
5.39
7.59
4.49
Torrent Power Ltd.
4.99
5.58
5.55
Supreme Industries Ltd.
3.52
3.92
2.6
Endurance Technologies Ltd.
2.92
0.5
0.65
Astral Poly Technik Ltd.
2.9
1.49
1.5
Tata Consultancy Services Ltd.
2.81
3.27
4.45
Kotak Mahindra Bank Ltd.
2.74
4.17
6.07

PORTFOLIO ANALYSIS
In the latest portfolio, the fund held 64 scrips, out of which 36 scrips were held since one-year period (Aug-2020 to Sept-2019). Churning of the portfolio was not observed much in this portfolio during the last one year. The fund managers would not hold any capitalization bias and sector preference but will choose to build a diversified portfolio with a balanced mix of large and mid-cap stocks. The portfolio will have an absolute return focus. The fund manager will try to generate returns while minimizing the potential for downside. As mentioned earlier, the aim of the Axis Growth Opportunities fund is to tap the investment opportunities in the large and mid-cap space and hold a diversified portfolio. This fund is a large + mid cap category fund. One of the special features of this fund is that this fund invests in Indian companies as well as foreign companies, which offers investors an opportunity to invest in the outside market. In general, an investor is not able to invest directly on foreign companies. Investors can invest on good foreign companies like Alphabet, Microsoft, Procter & Gamble Co. (USA), Facebook, JP Morgan Chase & Co through this fund. Investments in Large and Mid-cap Funds can help maintain stability with an exposure to Large-caps while keeping a focus on wealth creation with a sizable exposure to Mid-caps.
Table 1 above tabulates the allocation of top 10 sectors by the fund. The fund has an allocation to 13 sectors, wherein the top 5 sectors constitutes to 68.22%. The fund could outperform its benchmark index in only 06 out of 12 months during the last one year period, maintaining an average equity exposure of 96.28%.
The risk parameter graph measures standard deviation (S.D.) across all the Large and Midcap schemes. The S.D. of the scheme is 10.50%, which is lower than the industry average of the Large and Midcap schemes of 13.09%. The Sharpe ratio of the scheme is 0.43%, which is higher than the industry average of -0.29%.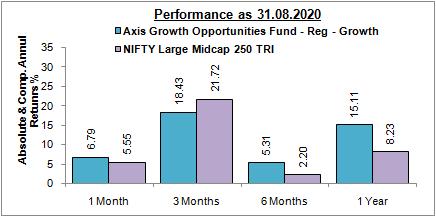 PERFORMANCE
In Exhibit 2, The scheme has consistently beaten its benchmark across all time frames. The fund's one-year return, at about 15.11 per cent, is well ahead of its benchmark as well as the category average for large and midcap funds. The fund always maintains cash and debt position of around 1- 8 per cent even during periods of market upswing. From a company concentration standpoint the fund is fairly well diversified with the top 5 stock holdings PI Industries Ltd., Sundaram Finance Ltd., Info Edge Ltd., Bajaj Finance Ltd and Torrent Power Ltd accounting for 29% of the portfolio value during the current month. The fund's notable feature is that the fund has been able to perform in bear market despite lower cash levels in its portfolio. During the one year time horizon, the fund has raised its exposure in midcap cap stock from 35.39% to 38.67% and similarly in small cap stock from 0.48% to1.50%.
Considering the fund's ability to contain downside better and consistent performance with an average risks, Axis Growth Opportunities Fund is suitable for investors with a moderate risk appetite.
NAV MOVEMENT VIS-À-VIS BENCHMARK

PEER COMPARISON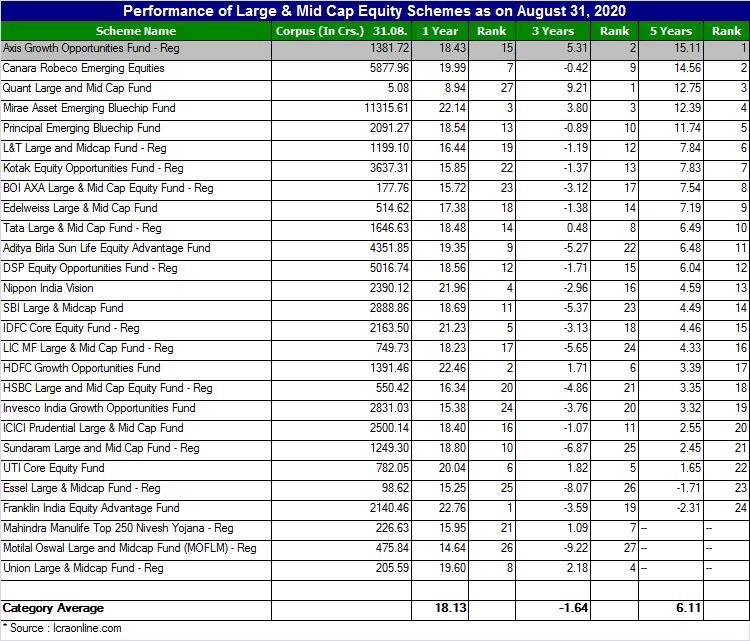 Start your Investment journey with us