Nippon India ETF Gold Bees

Date Published: August 4, 2022
FUND FACTS
Nature

Open ended

Fund Manager

Vikram Dhawan

Date of Allotment

March 08, 2007

Benchmark Index

Domestic price of Gold

NAV (Rs.)

43.90 ( 21-Jun-2022 )

Corpus (Rs.in Crs.)

6750.09 ( May-2022 )

Investment Objective

The investment objective of Nippon India ETF Gold BeES is to provide returns that, before expenses, closely correspond to the returns provided by Domestic price of Gold through physical gold. However, there can be no assurance or guarantee that the investment objective of the Scheme will be achieved.
PORTFOLIO COMPOSITION
Nippon India ETF Gold Bees is Open-ended ETFs Gold Commodities scheme which belongs to Nippon India Mutual Fund House.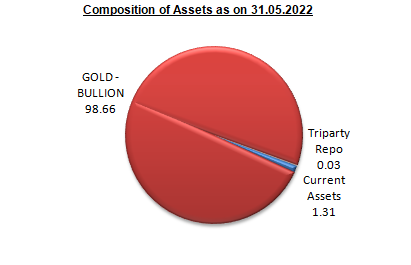 Table: 1

Top 10 Holdings (% in N.A)

May-22

Instruments

Current Assets

1.31

Current Assets

GOLD – BULLION

98.66

Gold

Triparty Repo

0.03

Money Market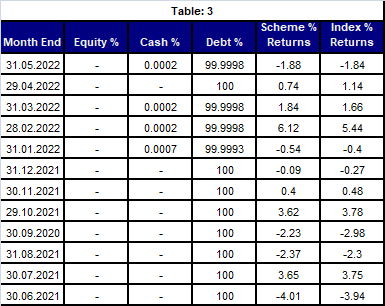 Risk of this scheme in terms of Standard deviation of monthly returns (using last 3 years data) is lower than the peer group of Commodities : Gold, while the Sharpe ratio of this scheme is higher than the peer group of Commodities : Gold.
Please see the table called "Risk Measures (%)"
NAV Chart of Nippon India ETF Gold BeES: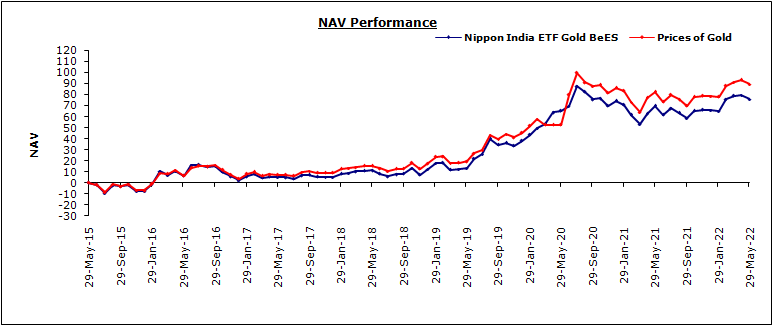 Performance

The Scheme employs an investment approach designed to track the performance of physical gold. Gold BeES are focused on providing returns close to physical gold. It invests purely in finest gold of 99.5% purity. Gold BeES are open-ended funds that are traded on exchanges. These funds are tracked to provide returns to its benchmark – domestic gold prices. The underlying portfolio composition of a Gold BeEs includes physical gold and money market instruments like treasury bills, certificate of deposits etc if any.
The ETF offers best-in-class liquidity and convenient exposure to gold under a decent cost structure. Nippon India ETF Gold BeES emerges as the best option on account of it eing the most liquid and actively traded gold ETF.
Investing in gold should be long term decision and not based on short term performance of gold price. Nippon India ETF Gold BeES can be a good start to invest in paper-gold.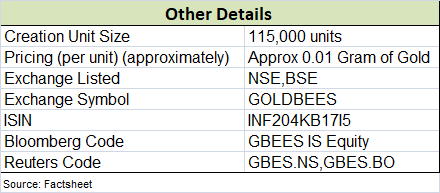 Please Note: For analysis performance, Prices of Gold Index is been considered in this report.
Peer Comparison: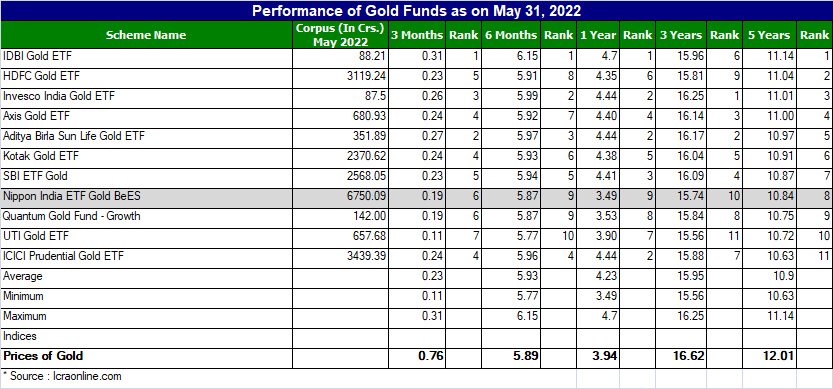 Start your Investment journey with us