NTPC Limited : Making it in India, Taking it to the World

Date Published: August 4, 2022

Company Overview: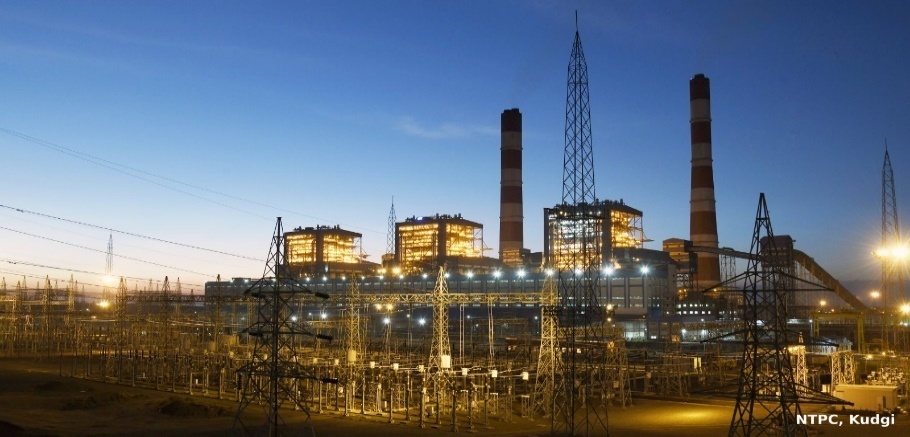 NTPC is India's largest energy conglomerate with roots planted way back in 1975 to accelerate power development in India. Since then it has established itself as the dominant power major with presence in the entire value chain of the power generation business. From fossil fuels it has forayed into generating electricity via hydro, nuclear and renewable energy sources. This foray will play a major role in lowering its carbon footprint by reducing green house gas emissions. To strengthen its core business, the corporation has diversified into the fields of consultancy, power trading, training of power professionals, rural electrification, ash utilisation and coal mining as well. It has presence in the entire value chain of the powergeneration business. The company produces electricity and sells that to state power utilities on wholesalebasis. NTPC generates electric power using the coal, gas, liquid fuel, hydro and renewable sources. Ithas interests in various power plants under development and implementation stages. NTPC focuses on growth of its business portfolio to diversify its businesses and markets across thepower value chain including coal mining, power trading, ancillary services, E-mobility and storage. It aimsto enhance organizational performance and to foster a collaborative style of working with customers.The company continuously strive for innovation in reducing costs, enhancing operational flexibilityaccording to changing customer needs.It also focuses on research and development activities by syncing R&D with overall business portfolio andby adapting reliable, efficient and cost-effective technologies by carrying out fundamental and appliedresearch in alternate fuels and technologies.NTPC became a Maharana company in May 2010. As of January 2020, there are 10 Maharana's CPSEs in India. NTPC is ranked No. 2 Independent Power Producer (IPP) in Platts Top 250 Global Energy Company rankings.
Industry Overview:
Power is among the most critical components of infrastructure, crucial for the economic growth and welfare of nations. The existence and development of adequate power infrastructure is essential for sustained growth of the Indian economy. India is the third-largest producer and second-largest consumer of electricity worldwide, with an installed power capacity of 395.07 GW, as of January 2022.Growing population along with increasing electrification and per-capita usage will provide further impetus. Power consumption is estimated to reach 1,894.7 TWh in 2022.India was ranked fourth in wind power, fifth in solar power and fourth in renewable power installed capacity, as of 2020. India is the only country among the G20 nations that is on track to achieve the targets under the Paris Agreement.For FY21, electricity generation attained from conventional sources was at 1,234.44 BU, comprising 1,032.39 BU of thermal energy; hydro energy (150.30 BU) and nuclear (42.94 BU). Of this, 8.79 BU was imported from Bhutan.Coal-based power installed capacity in India stood at 203.9 GW in January 2022 and is expected to reach 330-441 GW by 2040.
Business Segments:
The total installed capacity of the company is 69,134.20 MW (including JVs) own stations include 23 coal based, 7 gas based, 1 Hydro 1 Wind 18 Solar and 1 Small hydro plant. Under JV, NTPC has 9 coal based, 4 gas based, 8 hydro based and 5 renewable energy projects. The capacity will have a diversified fuel mix and by 2032, non fossil fuel based generation capacity shall make up nearly 30% of NTPC's portfolio. NTPC – Generates electricity and sells that to state power utilities on wholesale basis.Produces power using the coal, gas, liquid fuel and hydro sources.In FY2021, the segment's capital expenditure stood at INR 213,159 million, which grew 6.2% YoY. Strong demand in power and aggressive shifting from fossil fuel energy to Renewable energy will attract hugh demand for power sector.
Latest strategic Developments:
In April, the company and Gujarat Gas Ltd entered into a partnership to promote a new initiative of green hydrogen blending in Piped Natural Gas at NTPC Kawas.
In April, the company entered into an agreement with Power Grid Corporation of India Limited to provide consultancy services in developing a 105 MWp Solar PV Project at Nagda in Madhya Pradesh, India.
In April, the company issued an invitation for bids (IFB) for the engineering, procurement, and construction (EPC) of a grid-connected battery energy storage system (BESS) with 10 MW and 40 MWh.
In April, the company partnered with Delhi Jal Board to convert sludge produced in latter's sewage treatment plants into energy.
In April, the company awarded a contract to Bharat Heavy Electricals Ltd for 6000 HP electric locomotives, the first ever in the country for industrial application.
In May, the company invited bids from the country's startups for the production of torrefied biomass pellets.
In May, the company offered 1,114MW (megawatt) gas-fired era capability to the power ministry
In May, the company announced its plans to construct 1320 mw coal-fired plant.
In May, the company invited tender offer for the comprehensive Operation and Maintenance of 5 blocksof its 250 MWp Mandsaur solar PV plant.
In May, the company announced to begin commercial operation of the first part capacity of 20 MW solarPV project in Gujarat, India.
In May, the company announced its plans to raise around Rs 2,000 crore from the sale of a stake in itsrenewable-energy subsidiary NTPC Green Energy.
In May, the company's Barh Super Thermal Power Station conducted the boiler light-up test for thesecond unit of stage-1 of 660MW.
In June, the company invited bids for the balance of system package for 1,255 megawatt of solar projectsat the Khavda Renewable Park in Kutch, Gujarat, India.
Start your Investment journey with us