Oberoi Reality Limited: A dream of sustainable tommorrow.

Date Published: August 4, 2022

A Company Overview:
Oberoi Realty is India's leading real estate development company, headquartered in Mumbai. Alisted entity, it is focused on premium developments in the residential, office space, retail,hospitality and social infrastructure verticals; it is an established brand with an impeccable trackrecord. Oberoi Realty's forte lies in developing innovative projects through its emphasis oncontemporary architecture, strong project execution and quality construction. It aims to buildaspirational developments for its customers with distinctive designs, functional aesthetics andgood quality finishes.While its primary focus is on residential projects, it has made its presence felt across adiversified portfolio by introducing Oberoi Mall, The Westin Mumbai Garden City and theOberoi International School, respectively to Mumbai.Oberoi Realty seeks to create landmark projects through its mixed-use and single-segmentdevelopments. The company continuously evolves by keeping itself abreast with changing global and national trends and staying current with new architectural practices andtechnological advances. This mix of innovative design, planning initiatives and use of cutting-edge technologies has enabled the company to successfully deliver 39 completed projectsacross Mumbai, the financial capital of India.
Industry Overview:
The Indian real estate market is expected to register a CAGR of more than 15% during the forecast period.The country's real estate market was affected by the COVID-19 pandemic. In addition, the residential sector was the worst hit as strict lockdown measures across major cities in India impacted housing sales as home registrations were suspended and home loan disbursement was slow. However, the sector is in a recovering phase due to an increase in house sales, new project launches, and increasing demand for new office and commercial spaces, etc.However, real estate is the second largest sector in the country after agriculture in terms of providing employment opportunities. Moreover, the growth of the real estate market in the country is supported by increasing industrial activities, rapid urbanization, and improved income levels. This is further contributing to the economy of the country.Furthermore, the government has initiated key policies for the development of the real estate sector, such as the Real Estate Regulatory Act (RERA) and the Benami Transactions Act. The government is also providing a boost to affordable housing construction, interest subsidy for home buyers, service tax exemption, Dividend Distribution Tax (DDT) exemption, PR for foreign investors, etc.Major developers are focusing on affordable and mid-range housing units to meet increasing demand in the country. Moreover, the growth is driven by various factors such as rapid urbanization, a rise in the number of nuclear families, easy availability of home loans, etc.More than 62,000 housing units were launched in 2021 compared to 41,000 housing units in 2020. Meanwhile, Hyderabad recorded robust growth in the supply of new housing units, with 12,600 housing units in 2021 compared to 3,300 housing units in 2020. Also, Pune and Mumbai Metropolitan Region (MMR) saw significant growth rates of 75% and 40%, respectively.Mumbai Metropolitan Region (MMR) plays a vital role in the development of the residential sector in terms of supply and absorption of housing units among major cities, and this demand is driven by stamp duty cuts, discounts, and reduced home loan rates. Furthermore, the sales share of the southern markets such as Bengaluru, Chennai, and Hyderabad remained consistent.
Market Size: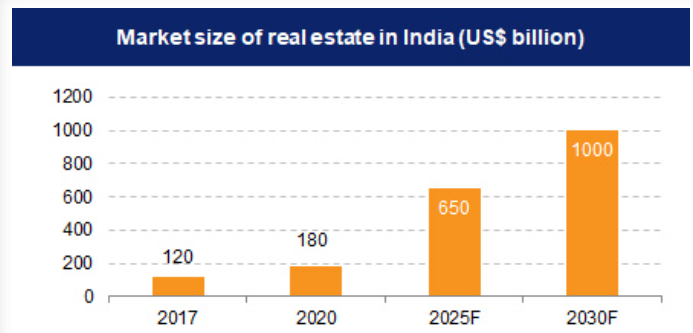 By 2040, real estate market will grow to Rs. 65,000 crore (US$ 9.30 billion) from Rs. 12,000 crore (US$ 1.72 billion) in 2019. Real estate sector in India is expected to reach US$ 1 trillion in market size by 2030, up from US$ 200 billion in 2021 and contribute 13% to the country's GDP by 2025. Retail, hospitality, and commercial real estate are also growing significantly, providing the much-needed infrastructure for India's growing needs.India's real estate sector saw over 1,700 acres of land deals in the top 7 cities in 1 year. Foreign investments in the commercial real estate sector were at US$ 10.3 billion from 2017-21. As of February 2022, Developers expect demand for office spaces in SEZs to shoot up after the replacement of the existing SEZs act.As per ICRA estimates, Indian firms are expected to raise >Rs. 3.5 trillion (US$ 48 billion) through infrastructure and real estate investment trusts in 2022, as compared with raised funds worth US$ 29 billion to date.The office market in the top eight cities recorded transactions of 22.2 msf from July 2020 to December 2020, whereas new completions were recorded at 17.2 msf in the same period. In terms of share of sectoral occupiers, Information Technology (IT/ITeS) sector dominated with a 41% share in the second half of 2020, followed by BSFI and Manufacturing sectors with 16% each, while Other Services and Co-working sectors recorded 17% and 10%, respectively.Around 40 million square feet were delivered in India in 2021. It is expected that the country will have a 40% market share in the next 2-3 years. India is expected to deliver 46 million square feet in 2022.According to Savills India, real estate demand for data centres is expected to increase by 15-18 million sq. ft. by 2025
Business Operations:
Oberoi announced agreements for an 18-acre land in Thane and a high value JDA in South Mumbai. Along with the Central Suburbs acquisition during Q3FY22 (to be used to load FSI at its Mulund projects), Oberoi has added smaller projects than past in FY22. Both projects being JDAs might see developments commencing faster. We believe Oberoi will add more projects in the next 18-24 months, as three of the big projects are nearing completion (a case for the last two big acquisitions).Garden City drives growth for FY22, Oberoi reported ~Rs 39 bn of sales in FY22, up 18%. Growth was aided by strong pre-sales at Oberoi's Elysian Tower B launch (38% of total sales value) and improved performance at its projects in Mulund. While larger apartments were sold in Elysian, price per unit across projects remains flat, with some escalations at Sky City project. Mall rentals increased during Q4, despite marginal drop in occupancy. Commerz 2 saw occupancy drop by +16% to 81% during Q4. With better occupancy (75% in Q4), operational metrics at The Westin Mumbai Garden City have improved sequentially in Q4FY22, with ARR and RevPAR up 4% and 8% QoQ respectively.
Start your Investment journey with us