SHREE CEMENT Limited – Sasta nahi, sabse aacha

Date Published: November 18, 2022

Company Overview

Shree Cement Ltd.was Incorporated in 1979, headquartered in Kolkata, West Bengal. Shree Cement Limited, recognised as one of the top three cement groups in India in terms of production capacity. The Company Being committed to sustainable and inclusive growth, has installed the largest waste heat recovery based power plants in the world cement industry, next only to China. The company is engaged in the production and sale of cement both within and outside India. Shree Cement is also active in power generation through thermal power. Its waste heat recovery power plants have a cumulative capacity of 646 MW. The company has presence primarily in North and East India. The company has operations in the States of Rajasthan, Uttarakhand, Bihar, Haryana, Chhattisgarh, and Uttar Pradesh. In the Northern region, Shree Cement enjoys a position of leadership. In FY2020, 92.5% of the company revenue came from India. It has huge cement capacity. Its cement plants are located at Beawar, Ras, Khushkhera, Jobner and Suratgarh in Rajasthan and Laksar (Roorkee) in Uttarakhand. The company follows a multibrand strategy and sells cement under the highly recognized brands of Shree Ultra, Bangur and Rockstrong which together enjoy the largest market share in high value markets of Rajasthan, Delhi and Haryana. The Company rank at 51st among the listed companies in India as on 31st March, 2022 in terms of market capitalisation. Also, it is a part of Nifty50 of National Stock Exchange.
Industry Overview
India is the second largest producer of cement in the world. It accounts for more than 7% of the global installed capacity. India has a lot of potential for development in the infrastructure and construction sector and the cement sector is expected to largely benefit from it. Furthermore, on the back of rising rural housing demand, the consumption of cement in India has been growing consistently as it is one of the cheapest products to buy in terms of Rs./kg. Strong expansion of the industrial sector, which has fully recovered from the COVID-19 pandemic shock, is one of the main demand drivers for the cement industry. As a result, there is a strong potential for an increase in the long-term demand the cement industry. Some of the recent initiatives, such as development of 98 smart cities, is expected to provide a major boost to the sector. Aided by suitable Government foreign policies, several foreign players such as Lafarge-Holcim, Heidelberg Cement, and Vicat have invested in the country in the recent past. A significant factor which aids the growth of this sector is the ready availability of raw materials for making cement, such as limestone and coal. At present, the Installed capacity of cement in India is 500 MTPA with production of 298 MTPA. The cement demand in India is estimated to touch 419.92 MT by FY 2027. As India has a high quantity and quality of limestone deposits through-out the country, the cement industry promises huge potential for growth. India has a total of 210 large cement plants out of which 77 are in the states of Andhra Pradesh, Rajasthan, and Tamil Nadu. Nearly 33% of India's cement production capacity is based in South India, 22% in North India, 13% in Central and West India, and the remaining 19% is based in East India.
Company Operation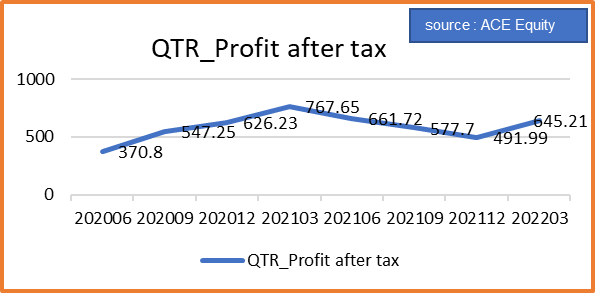 The Company is engaged in the manufacturing and selling of cement and cement related products. It is recognized as one of the most efficient and environment friendly company in the global cement industry. Shree Cement Limited is one of India's Top three cement producers and among the fastest growing, with an installed capacity of 43.4 Million Tonnes Per Annum in India and 47.4 including overseas. Be it OPC/PPC/PSC, Bag packing or loose cement in bulkers – our products meet the requirements of different customer segments. Shree also has an installed Power Generation Capacity of 752 Mega Watts which includes Waste Heat Recovery Power, Solar Power, Wind Power along with others. Known for innovation in marketing by creating new segments, quick rollout of distribution networks close to markets, Shree is consistently winning trust of customers. The Company is engaged in the manufacturing and selling of cement and cement related products. It is recognized as one of the most efficient and environment friendly company in the global cement industry.
Steady volume along with improved realization aided revenue growth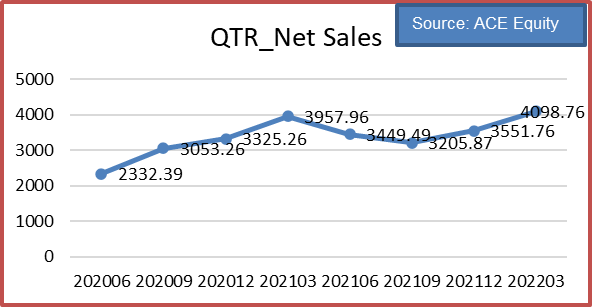 Shree Cement reported 8.9% YoY growth in its sales volume at 7.5 MT for the quarter. Realisation improved by 11.5% YoY / 9.0% QoQ to INR 5,926/ton as against INR 5,435/ton in Q4FY22 and INR 5,314/ton in Q1FY22. Higher trade sales as well as front ended price hikes helped to improve realisation for the quarter. Steady volume along with improved realisation aided revenue growth which has beaten our estimate by 8.5%. The company's current utilization level stands at ~60% giving ample room for future growth by increasing its utilization level in subsequent quarters. Shree Cement is on track to achieve its target of 57 mtpa of capacity from the current 46.4 mtpa in next three years time.
Steep hike in power & fuel costs dented margin:
For Q1FY23, EBITDA has seen a decline of 21.7% YoY/12.8% QoQ to INR 8,008 mn. EBITDA margin contracted to the tune of 1,000 bps YoY and 291 bps QoQ to 18.1%. The decline in EBITDA was due to steep rise in power and fuel costs, which grew by 112.4% YoY/19.5% QoQ to INR 15,137 mn. As a result of higher input costs, blended EBITDA on a per ton basis was down by 28.1% YoY/6.1% QoQ to INR 1,075.
Valuation and view:
India's cement production is expected increased at a CAGR of 5.65% between FY16-22, driven by demands in roads, urban infrastructure and commercial real estate. The consumption of cement in India is expected grow to at a CAGR of 5.68% from FY16 to FY22. As per Crisil Ratings, the Indian cement industry is likely to add ~80 million tonnes (MT) capacity by FY24, the highest since the last 10 years, driven by increasing spending on housing and infrastructure activities. In the past one month, pet coke prices have corrected ~18% from their peak, which along with lower diesel prices will help to reduce energy costs for the company in coming quarters. We remain positive on Shree Cement from longer term perspective as we believe capacity expansion will drive its next leg of growth. At CMP of INR 20,415, the stock is trading at FY23E/FY24E EV/EBITDA of 16.7x/14.1x. After factoring in a mixed performance for the quarter, we have maintained a Buy and accumulate rating with forward EPS 702.68 for Fy 2023-24 as compare to current EPS 549 for a target price of RS.25000.
Start your Investment journey with us