Insurance an Important Element of Financial Planning

Date Published: May 31, 2023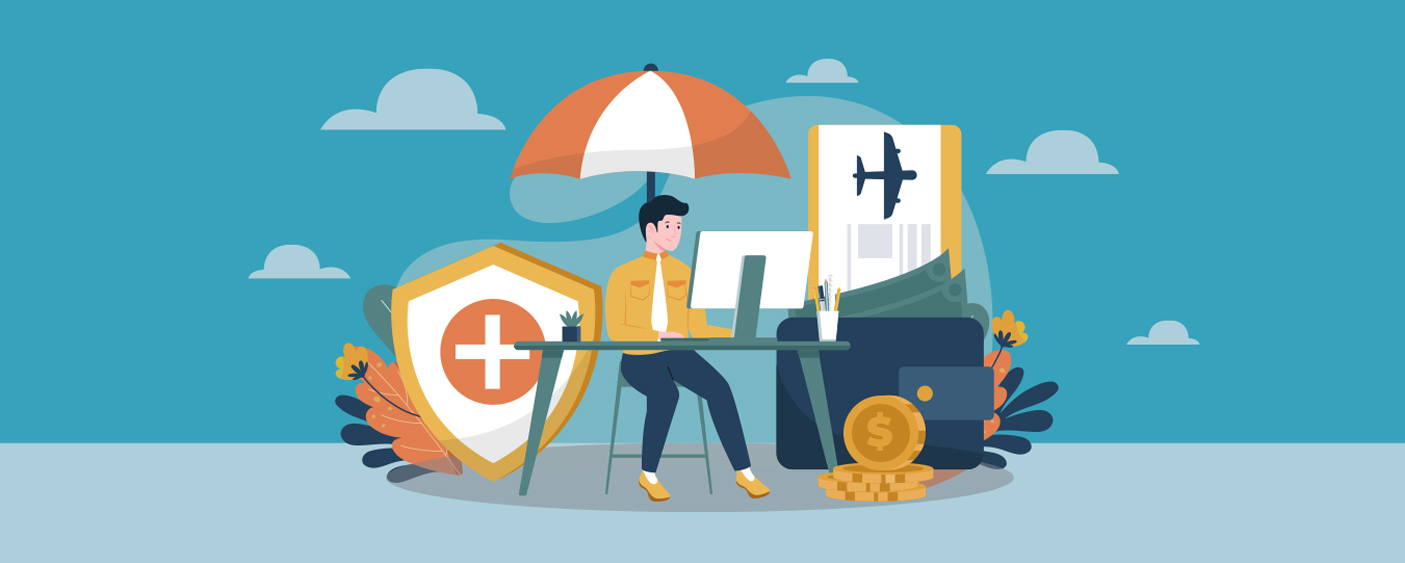 Reyansh Gupta is a young 27 year old computer engineer who recently got married. His mother lives with them and is financially dependent on him. Reyansh wants to be responsible about his financial situation. He decides to meet his friend Alok who is a financial advisor, to plan his investments.
Alok suggests him to start with the foundation of Financial Planning, that is first ensure adequate Insurance to cover the uncertainties of life. However, Reyansh is not convinced with the idea as he feels that he is young and healthy and should not spend his hard earned money on buying insurance rather than investing.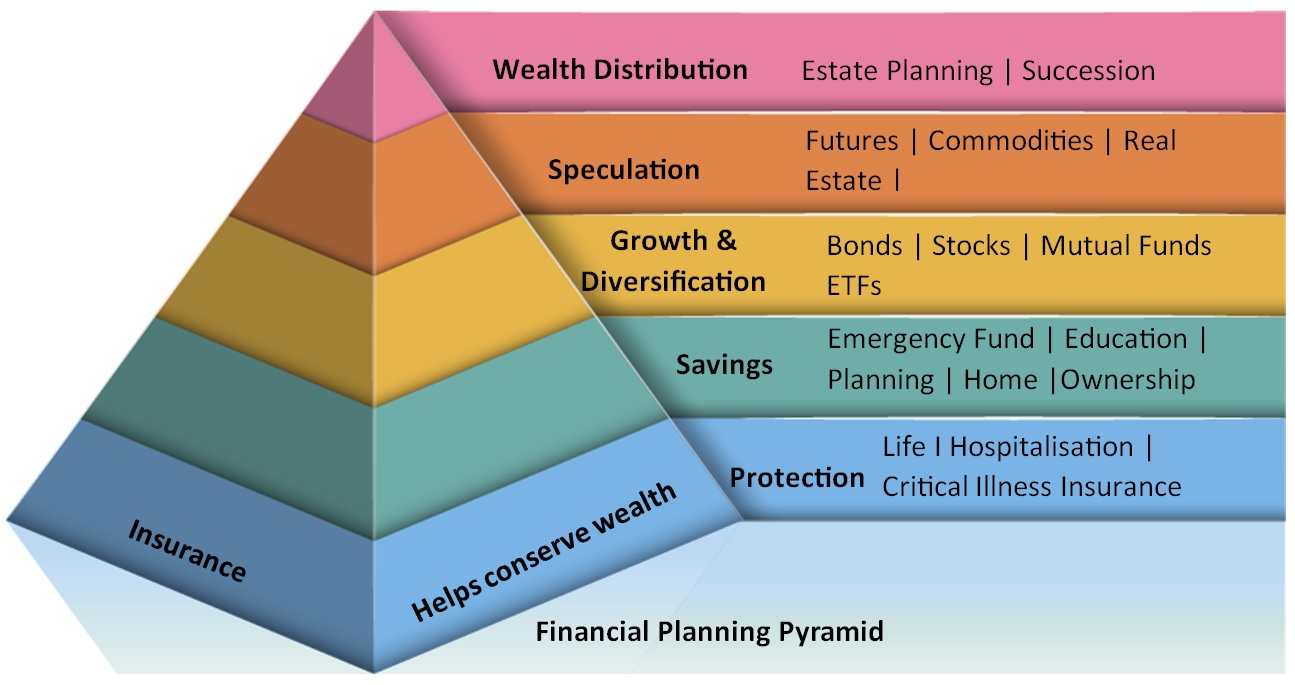 Alok explains – You can choose not to buy insurance, but you shouldn't. Life tends to throw the regular curveballs your way. Recent Covid Pandemic is an eyeopener to the uncertainties we all face. Millions of people lost their lives and more were hospitalized and had to shell their hard-earned money to save themselves or their loved ones from the deadly virus. COVID crisis has made it evident that nobody is safe irrespective of their current good health, age, habits and wealth. Everyone is vulnerable to disease and accident which may lead to hospitalization or death. Good health reduces the incidence of falling ill but does not eliminate the risk of hospitalization, disability or death in one's life.
Hence an adequate Life Insurance Term Plan (income replacement tool - to protect the dependents), an adequate Hospitalization and Critical Illness Plan and a Personal Accident Plan with Disability cover (Income Protection tools) are a must.
Let us now see what benefits these insurance covers provide –
Peace of Mind : With a term plan, you can be at peace that it will provide a financial safety jacket to your family and that they can maintain a standard of life that you had always wanted for them, even when you are not around. Similarly, family health insurance provides peace of mind that in case of unexpected illness, you will be able to provide for the best healthcare for yourself and your family without digging into your investments and jeopardizing your financial goals.
Asset Protection : If you unfortunately die or suffer from critical illness affecting your ability to earn, your family may be liable for debt repayment in case of house or vehicle loan. In case you have adequate term insurance and a critical illness cover your family may be able to use the insurance payout to pay off the outstanding debts.
Tax Benefit : Life and health insurance plans are tax saving too. Life insurance premiums qualify for a deduction under Section 80C while health insurance premiums qualify for deductions under Section 80D. Both these deductions help you lower your taxable income by upto Rs.2.5 lakh (Rs.1.5 lakh under Section 80C and upto Rs.1 lakh under Section 80D). If you fall in the 30% tax bracket, this deduction helps you save tax of upto Rs.75,000.
Also under life insurance plans, death benefit is completely tax-free. Even the maturity benefit is tax-free (subject to specific terms and conditions) under the provisions of Section 10 (10D).
Alok further explained the features of Term Plan and Health Insurance Plans to enable Reyansh to understand them better.
Term Insurance
It is a pure risk cover insurance which provides for death benefit. It is the simplest and cheapest form of life insurance. If the insured dies during the term of the plan, the Sum Assured under the policy is paid to the nominees. If the insured survives the policy term, there is no payout. It can be taken for a period as long as 40 years or even more.
It is suitable for anyone who is the breadwinner in the family and has dependent parents, spouse and children, requiring a large cover to protect family's financial future and for people who have taken substantial loans.
Taking term plan when one is young is beneficial as the premium is lower for the young buyers and it is fixed for the entire term plan duration. Hence one can make significant savings in the long run.
Unlike any other investment product, one of the very unique features of Life insurance is the ability to create an immediate estate for your beneficiaries in case of an unfortunate death, often for pennies on the dollar.
Health Insurance
During the pandemic there were heart wrenching stories of how people had to use all their savings or borrow money at high interests, to pay for the hospitalization bills in the absence of any health insurance cover. There are enough reasons for everyone to have adequate health insurance cover. Few are-
Rising medical costs (Medical Inflation)
Increase in life expectancy
Increase in cases of life-threatening diseases like Swine flu and Covid,
Increase in lifestyle diseases like diabetes, cardiac arrest…
Increase in number of road accidents
Health Insurers offer two types of products
Indemnity Based Plans :
These are the hospitalization policies which pay for medical expenses incurred due to hospitalization on actual basis. The maximum limit of indemnity is the sum insured. It covers hospitalization due to accident or disease including viral diseases like covid. It pays for in-patient expenses including surgeon, specialist fees, ICU and room charges, medicines, tests and other costs where hospitalization for more than 24 hours is required. With the advancement of technology, day care procedures like dialysis, eye operation, angiography etc which require less than 24 hours of hospitalization are also covered.
One can take Individual health insurance cover with sum insured for each family member separately or a Family Floater Cover wherein family is offered a single sum insured which floats over the entire family and can be used in any proportion by all or any of the members covered during the policy period. Premium is generally lower as compared to individual policies taken for the same sum insured for each family member. Premium depends on age of eldest member of the family. Hence it is generally advisable not to cover elder parent in the family floater and buy a separate plan for them.
One should take care to renew the health policy regularly and on time, to avail continuous cover, Cumulative Bonus ( sum insured is increased by fixed percentage in case of no claim during the previous year) and Waiting Periods benefit. In case the policy is not renewed even within the grace period, it shall be deemed to be a new policy with fresh waiting periods and no benefit of Cumulative Bonus.
One should buy a health insurance plan at a young age when one is healthy and renew it regularly, so that in later years when there may be health complications, the disease specific waiting periods would have already exhausted. Also as per IRDAI guidelines, in case the policyholder maintains coverage for 8 years without a break, the health insurance provider cannot deny a claim. This is called Moratorium Period
Fixed Benefit Plans :
These covers do not take actual expenses into account and pay a fixed lumpsum on the happening of an event example a Critical Illness Policy – it pays for the fixed sum insured on diagnosis of any of the covered critical illness during the policy period. The amount paid helps in paying for various direct and indirect financial consequences of a critical illness. A Critical Illness Plan can be taken as a rider under Life Insurance Cover or can be bought as a separate Policy. It is especially important for people who have a family history of any critical illness.
Example - Mr. A opted for a Critical Illness Insurance plan with a sum insured of Rs 25 lakh. Within the policy term, he was diagnosed with one of the listed critical ailments under the plan. The insurer pays him a lump sum of Rs 25 regardless of the amount of expenses incurred.
Alok concluded by explaining that emergency planning is the first step of financial planning and insurance allows you to do that. Hence, before making any elaborate savings and investment plans for your goals, do the insurance planning groundwork. Lay the foundation of secured financial planning, immune to emergencies. Thereafter, plan your portfolio and watch your investments help you meet your goals.
Start your Investment journey with us